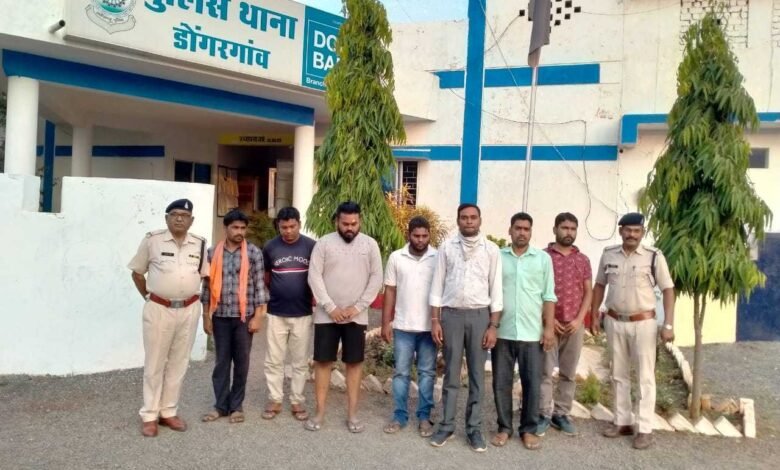 Uncategorized
Dongargaon police apprehends 7 gamblers, recover Rs 4,24,000
Rajnandgaon:Dongargaon police succeeded in apprehending seven gamblers during a raid and recovered Rs 4,24,000 from their possession. 
Acting on a tip-off on April 28 that some gamblers were busy playing in gambling, Dongargaon police headed by IPS Mayank Gurjar left for the gambling site along with his team and caught Amit Kumar Jain,38, a resident of Arjuni, Chetan Ram Sahu, 34, a resident of Bhavarmara O P Surgi police station Basantpur of Rajnandgaon district, Sohan Sinha, 27, aresident of Bhavarmara , Devendra Kumar Sahu, 35, a resident of Bhavarmara , Shailesh Kumar Yadav, 30, a resident of Bhavarmara , Virendra Kumar Sonkar, 39, a resident of Arjuni and Duleshwar Kumar Sahu, 34, a resident of Salikjhitiya. The police team recovered Rs4,24,000 and 52 playing cards used in the gambling from them. 
The accused were booked under Section 3,4 of Gambling Act.  Offence was also registered against them under Section 181/2022. 
It may be mentioned, a special drive has been launched in the district under the directives of Superintendent of Police, Rjnandgaon, Santosh Singh and under the guidance of Additional Superintendent of Police Puplesh Kumar and Sub Divisional Officer of Police Arjun Kurre. Inspector Rajesh Kumar also played crucial role in apprehending the gamblers.