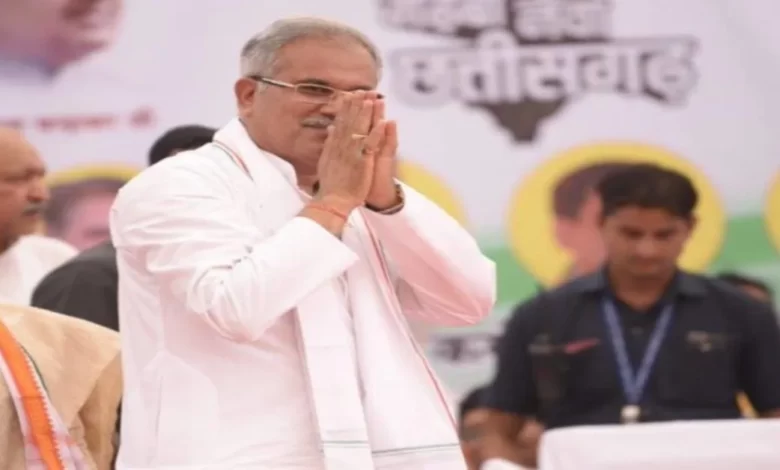 Bilaspur City MLA Shailesh Pandey among others have taken off for Delhi and get arrested while protesting
Delhi:Chief Minister Bhupesh Baghel, Congress Chhattisgarh president Mohan Markam and other senior leaders were already camping in Delhi.
The Congress party has called all its MLA from Chhattisgarh to Delhi for a protest demonstration against the Enforcement Directorate (ED) questioning Congress MP and former party president Rahul Gandhi in alleged Rs 2000 crore money laundering case in National Herald case. Earlier, it was decided to stage a demonstration at Jantar Mantar on June 23, However, Congress has called its MLAs from Chhattisgarh on today, Tuesday, for the same.
It may be mentioned, Congress Chhattisgarh president Mohan Markam had staged a demonstration in Delhi on Monday to mark his protest against the questioning of Mohan Markam.
The ED has summoned Rahul Gandhi for questioning on Tuesday as well and it did not go down well with the Congress leadership. It promoted the Congress to call its MLAs to demonstrate in favour of Rahul Gandhi. Besides Chattisgarh, Congress MPs, MLAs and office-bearers from across the country will protest against alleged misuse of ED by the Central government at Jantar Mantar.
The ED has been questioning Rahul Gandhi since June 13 in the National Herald case. During the initial three days of interrogation, all the senior leaders of Congress and workers participated in the protest staged in Delhi. They took out protest march from the Congress headquarters to the ED office and courted arrest.
Chhattisgarh Chief Minister Bhupesh Bagheland Rajasthan Chief Minister Ashok Gehlot had actively participated in this demonstration and they were detained by the Delhi police. On Monday, when the ED questioned RahulGandhi, thousands of Congress workers and office-bearers gathered at Jantar Mantar.
It was expected that the questioning of RahulGandhi will be completed on Monday and the ED will go for questioning of Congress president Sonia Gandhi on June 23. The Congress party had plan to stage massive demonstration on June 23, but seeing this not happening, Congress has called all the MLAs to Delhi. An MLA from Chhattisgarh said that the party is calling all its MLAs from across the country to Delhi.
Hundreds of Congress leaders, including Chief Minister Bhupesh Baghel, State President Mohan Markam, Advisor to Chief Minister Rajesh Tiwari, MP Chhaya Verma, MP Deepak Baij, Jyotsna Mahant, MLA Vikas Upadhyay, were camping in Delhi. It is said that the MLAs from Chhattisgarh are reaching Delhi by flight.
Ministers Amarjit Bhagat, Bilaspur City MLA Shailesh Pandey, Girish Dewangan and Ramgopal Verma have already taken off, said sources.