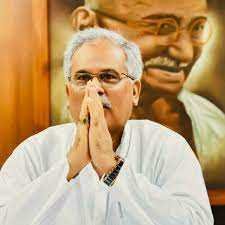 Uncategorized
Akshaya Tritiya will be celebrated as "Mati Pujan Diwas in Chhattisgarh
Raipur: In
Chhattisgarh, Akshaya Tritiya will now be celebrated as "Mati Pujan Diwas". Instructions
in this regard have been issued after the announcement of chief minister
Bhupesh Baghel earlier. On this occasion, a state-level program will be
organized in the capital city Raipur, and programmes will be organized across
the state and people will be inspired to take a pledge to protect Mother Earth.
Akshaya Tritiya is on May 3. Akshaya Tritiya is also known as 'Akti' in
Chhattisgarh.
Under the leadership of
chief minister, Chhattisgarh Government is taking several initiatives to
promote organic farming in the state, which includes promoting the use of
vermicompost in place of chemical fertilizers and pesticides, besides
encouraging the use of cow urine and other organic materials on a large scale
for the rejuvenation of the fertility of the soil. Taking this objective
forward, a grand campaign will be commenced on Akshaya Tritiya on May 3 this
year to celebrate "Mati Pujan Diwas" in the state.
According to the
instructions issued regarding the event, a state-level program will be
organized in the capital Raipur on this occasion. Moreover, 'Mati Pujan Diwas'
programs will also be organized in all the Gram Panchayats, Janpad Panchayats
and District Panchayats, and 
participation of the ministers in-charge of districts, legislators,
representatives of three-tier Panchayats, farmers and citizens will be ensured.
In these programmes, pledge to protect Mother Earth will be taken and the
message of the Chief Minister will be read. Instructions have also been given
to ensure active participation of social organizations and students of schools
and colleges in this important event honoring the environment.