Chhattisgarh
Professional boxing will become a way to develop Chhattisgarh into Khelgarh: Chief Minister Bhupesh Baghel.
Dispatch News.
On Wednesday evening, the Sardar Balbir Singh Juneja Stadium was filled with the sounds of boxing fans. The occasion was the international boxing match 'The Jungle Rumble'. Chief Minister Bhupesh Baghel also enjoyed boxing on this occasion. He said that professional boxing would become a means to develop Chhattisgarh into Khelgarh. He stated that efforts are being made to build Chhattisgarh as a sports state. The professional bout of boxer Vijender Singh will bolster this strategy even more. We must not only inspire the people but also plan for Chhattisgarh to be regarded in India as a sports superpower. The Chief Minister said that it was great attending this event. It is a historic moment for Chhattisgarh.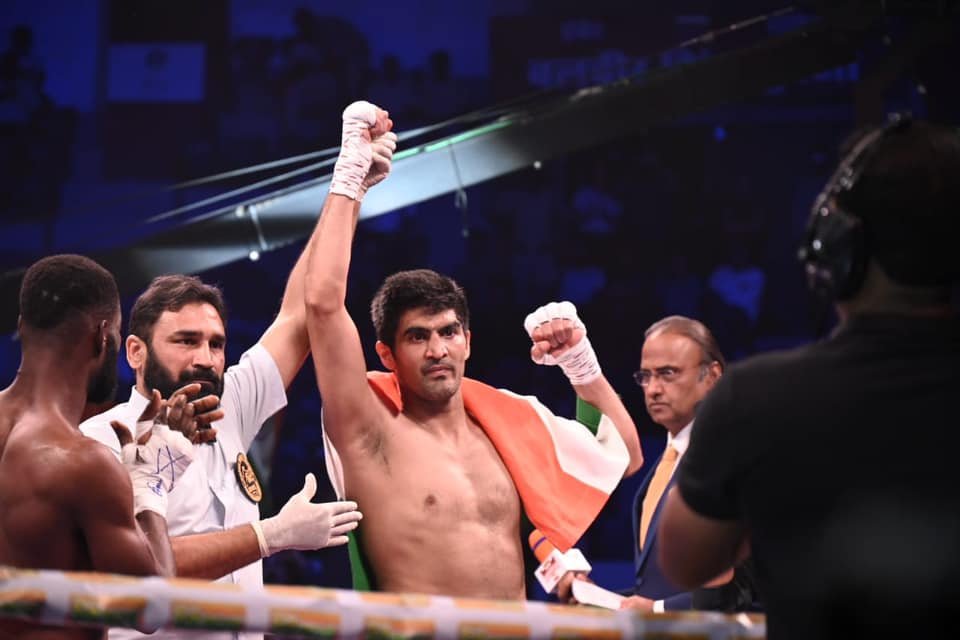 Concerning attempts to develop sports in Chhattisgarh, the Chief Minister stated that a sports academy and a distinct body for sports in the state will allow for the simultaneous construction of infrastructure and the grooming of athletes. Many major players have demonstrated their abilities. The Chief Minister further stated that the government is promoting a sports climate in Chhattisgarh. Our state already had a representation in women's hockey, and now our daughter Aarushi Kashyap has won a badminton medal at the Commonwealth Games. Archery has a lot of potentials here as well. Such activities will provide sports in the state with a new perspective.
Sardar Gurcharan Singh Hora, general secretary of the Chhattisgarh Olympic Association, was the main organiser. CM Bhupesh Baghel was present to enjoy the program and welcomed him. Chief Minister Bhupesh Baghel praised the Chhattisgarh Olympic Association and its General Secretary and congratulated them.
The opening match in the lightweight group was between Amey Nitin and Asad Asif Khan. Asad won the game. The second match was between Ashish Sharma and Karthik Satish Kumar, and Karthik Satish Kumar became the winner. Shaikom and Gurpreet Singh squared off in the third encounter. Gurpreet Singh became victorious in this match.
The fourth boxing contest pitted Sachin Nautiyal against Faizan Anwar. Faizan Anwar defeated Sachin Nautiyal in one minute and 17 seconds. Sachin Nautiyal was knocked out after being hit by a punch from opponent Faizan. According to the regulations of the game, Faizan became the winner.
The main attraction of this boxing competition was the bout between professional Indian boxer Vijender Singh and Ghanaian Eliyasu Sule. Vijender Singh defeated Eliyasu Sule in this battle with a powerful blow. Eliyasu got defeated in the fifth and final match of The Jungle Rumble in just 02 minutes and 07 seconds. Vijender Singh put such great hurt to Eliyasu Sule with his powerful blow that he was unable to recover, earning Vijender Singh the victory.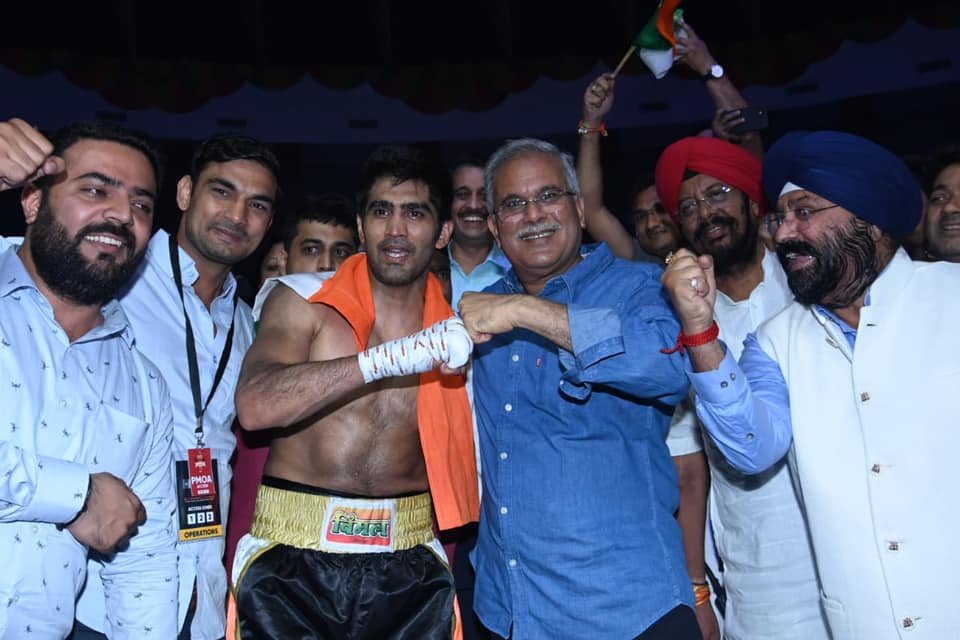 It is worth noting that this is the first professional boxing match in Raipur. Vijender Singh, India's first professional boxer, was training extensively for this match. Vijender Singh thanked Chief Minister Bhupesh Baghel for his support for this match.
On June 8, professional boxer Vijender Singh met with Chief Minister Baghel and proposed organising a professional boxing contest in Chhattisgarh. The Chief Minister accepted this proposal, and an International Boxing match was organised in Raipur on the initiative of Chief Minister Baghel. After nearly 19 months, Vijender Singh entered the ring. He has received extensive training in Manchester for this purpose.