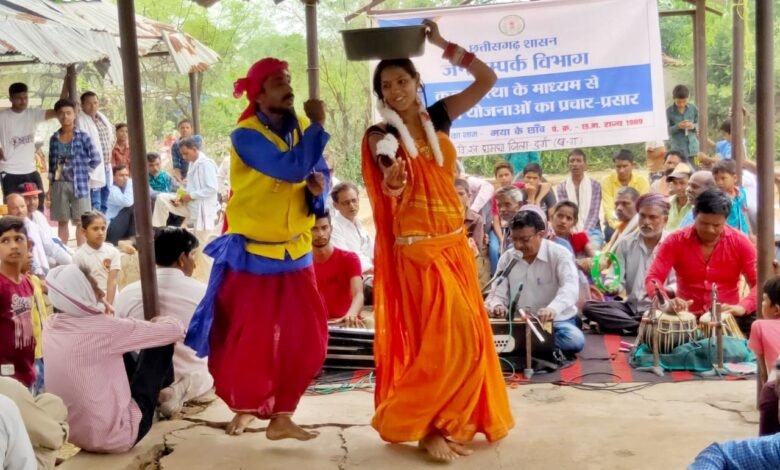 Uncategorized
Kala Jattha's and Nacha Dal groups spreading awareness about govt schemes in rural areas of Raipur
Raipur: An awareness campaign with the motive of educating the public about the state government-run public welfare schemes is being carried out by Kala Jatha/Nacha Dal groups in the rural areas of Raipur district.

The cultural presentations in the form of music,dance and theatre is being performed by Kala Jattha's and Nacha Dal's to spread awareness amongst the rural populace so that they can avail the benefits of Public Welfare Schemes. This campaign is arranged by the Public Relations Department in 90 places of Raipur district.

Under this, cultural presentations were given in village of Tokaro, Manikchauri, Beldih, Ugetara, Mandlaur, Kathia, Jaundi and Jonda of Abhanpur block and in the villages of Parastrai, Kapsada, Tiwaraiya, Siltara, Dhaneli, Sakran of Dharsiwa block.

These presentations are being given in a simple, easy and relatable way through Hindi and Chhattisgarhi language. Information about flagship schemes of the state government like, Godhan Nyay Yojana, Rajiv Gandhi Kisan Nyay Yojana, Rajiv Gandhi Grameen Bhumiheen Krishi Mazdoor Nyay Yojana, loan waiver of farmers, purchase of paddy, Interest-free agricultural loan scheme, Chief Minister's Tree Plantation Incentive Scheme, Dai-Didi Clinic Scheme, Chief Minister's Suposhan Abhiyan, Mukhyamantri Haat Bazar Clinic Yojna, Swami Atmanand English Medium Utkrisht School, Dhanwantri Generic Medical Store, and Narva, Garwa, Ghurva and Bari are being given under this campaign. The performances are being done by the members of Upkar Panthi Loknritya Kalyan Sewa Samiti of Mandir-Hasaud, Udagam Seva Samiti and Chitrotpala Lok Kala Parishad, Raipur.