Uncategorized
"Discipline and dedication are necessary for the youth to succeed": Prof. Chakrawal
Bilaspur: Ten-day pre-Republic Day Parade Camp (Central Region) of National Service Scheme in Guru Ghasidas (Central University) University culminated on Monday. This pre-RDC camp was organized under the joint auspices of Guru Ghasidas Vishwavidyalaya, Bilaspur and the Regional Directorate of National Service Scheme, Bhopal from November 12 to 21.
University Chancellor Professor Alok Kumar Chakrawal, who was presiding over the ten-day camp, said that it is impossible to find an organization of young volunteers as big and disciplined as the National Service Scheme in any other country in the world. The spirit of discipline and dedication is inculcated to the core of the National Service Scheme, which gives the youth an opportunity to set ideal standards in life. The program of this ten-day camp has taught 200 youth from six states mastery in punctuality, following rules and discipline, team spirit, and organizational ability.
Professor Chakrawal said that the volunteers of the National Service Scheme have an important role in building a self-reliant India. If a person works with full potential, success is certain. By recognizing this potential, he said, one can accomplish the biggest goals. Professor Chakrawal exhorted the NSS volunteers to join the Swavalambi Chhattisgarhi Yojana run by Guru Ghasidas Vishwavidyala, and by registering themselves on the portal, develop entrepreneurship and skills and become job givers in future instead of becoming job takers.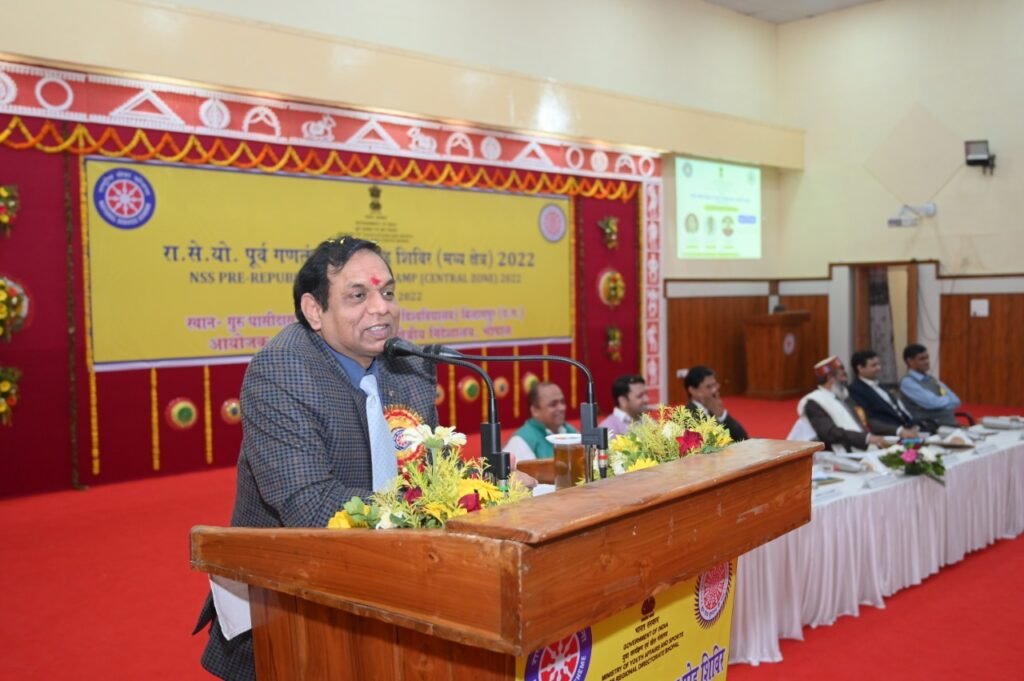 Atal Bihari Vajpayee University Bilaspur Vice Chancelor Professor ADN Vajpayee, the Chief Guest of the closing session, said that every person has some or the other ability, the need is to identify and hone it. Challenges and obstacles keep coming in life and in such a situation, by setting a goal and moving forward in that direction with persistence one is sure to get success. Prof. Bajpai called upon the volunteers to transform their lives to an ideal through this camp. On this occasion, he also recited the lines of the motivational song 'Kantak Path Par Chalte Chalte' to the young volunteers.
The special guest of the program, Professor M.K. Verma, Vice-Chancellor of Swami Vivekanand Technical University, Bhilai, Chhattisgarh inspired the NSS volunteers through the story of tortoise and hare. He said that any success can be achieved through slow and steady pursuit. He said, "When you have the ability, don't rest, use it to achieve things". With the cooperation of each other, he said, even the most difficult task can be completed successfully.