Uncategorized
CU will be the Pride of Chhattisgarh declares Vice-Chancellor Prof. Chakrawal during Bhoomi Pujan.
Dispatch News.
Bilaspur. Guru Ghasidas Vishwavidyalaya (Central University) will be the pride of the whole of Chhattisgarh and become the crown of the state in education. The Vice-Chancellor of the Central University, Professor Alok Kumar Chakrawal, said this on Bhoomi Pujan of three new buildings.
On May 26, 2022, under the EWS scheme of the Ministry of Education, the University Grants Commission approved three buildings worth Rs 60.60 crore, including a multi-storey lecture complex and girls and boys hostel with a capacity of 250. The Vice-Chancellor performed the Bhoomi Pujan. The tentative date for completion of the construction work of these buildings by CPW has been fixed as December 2023.
The Chief Guest of the Bhoomi Pujan program, Vice-Chancellor Prof. Chakrawal, said that the university is constantly touching new dimensions of development in the field of infrastructure as well as academics. We must work with dedication to keep its reputation intact. He said that, we should always set new records by having big goals and moving ahead.
The Vice-Chancellor said that you can be successful in life by conquering yourself. We cannot change the world, but we can initiate change through positive and creative changes in ourselves.
CPWD Chief Engineer of Raipur Zone, Yudhishthira Naik, Executive Engineer Civil, Senior Architect, Director M/s Asian Construction, Ajmer, Deans of various schools, Chief Warden, and the Finance Officer of the University expressed their views.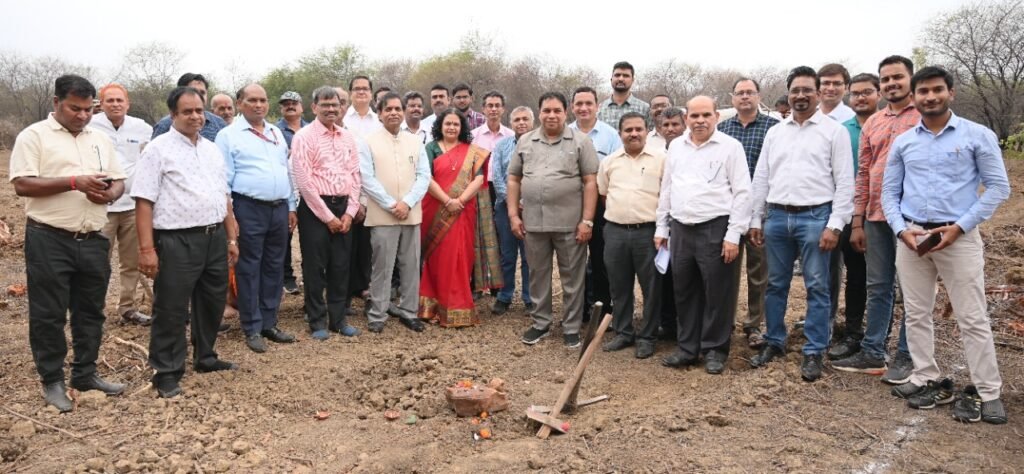 In the end, Prof. Dr Shailendra Kumar presented the vote of thanks, and Dr R.K. Choubey conducted the function. On this occasion, Prof. Nilambari Dave, former Vice-Chancellor and Head of Department of Home Science, Saurashtra University, Rajkot Gujarat, Deans of various Schools, Heads of Departments, officers of CPW and project officials, teachers and officers were present.