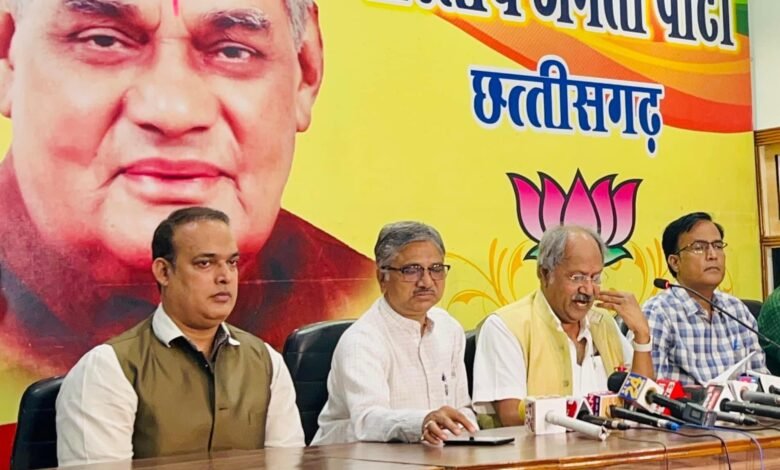 Uncategorized
Trending
Brijmohan Agrawal lashed out at RahulGandhi and Mohan Markam
Rahul Gandhi's statement against BJP in London event is an attempt to defame India, Agrawal said.
Raipur:BJP MLA and former Minister BrijmohanAgrawal on Sunday slammed Rahul Gandhi for his statement at an event in London and said that this self-proclaimed leader has done nothing except defaming the nation. Agrawal also hit out at Congress Chhattisgarh president Mohan Markam for seeking reply from BJP on RahulGandhi's statement in London where he said that the BJP has spread kerosene all over the country and you need one spark and you all will be in trouble.
Agrawal said that the existence of Congress is at stake in national politics because of its family first policy.
It may be mentioned, Rahul Gandhi said in the London event that the BJP has spread kerosene all over the country and it needs one spark and all will be in big trouble. Following this statement, Chhattisgarh Congress president Mohan Markam jumped into the battle asking BJP for its reply.
"Even though I feel the self-proclaimed leader deserves a reply, I am here to say what Congress did with the nation. The Congress had taken the nation to a rotten state. However, Prime Minister Narendra Modi brough back the nation on the path of development even in adverse conditions because of responsive governance and proactive measures," said Agrawal.
The whole world today is looking at India because of the Prime Minister Narenda Modiand such as is the aroma of the Prime Minister. Everybody know who is spreading kerosene, said Agrawal, adding the astounding victory of BJP in four states out of five where Assembly polls took place is the proof of BJP's popularity. Since 1985, no party had repeated in Uttar Pradesh elections but BJP broke that record and it is another example of people's trust in Modiji, said Agrawal.

The Central government has reduced the petrol price by Rs 18 and diesel price by Rs 16 in the last three months by reducing the central excise duty. Now chief minister Bhupesh Baghelshould reduce VAT on petrol at least by Rs 15 and on diesel by at least Rs 10, said Agrawal. If inflation is there in Chhattisgarh, it is because of Chief Minister Bhupesh Baghel. If Rajasthan and Delhi governments can reduce the Vat why not Chhattisgarh, said Agrawal.
BJP leaders Naresh Gupta, Gaurishankar Shrivas BJP media In-charge Nalineesh Thokneand Anurag Agrawal were present on the PC.