Uncategorized
Three shops were destroyed in a massive fire in Phool Chowk. No reported deaths.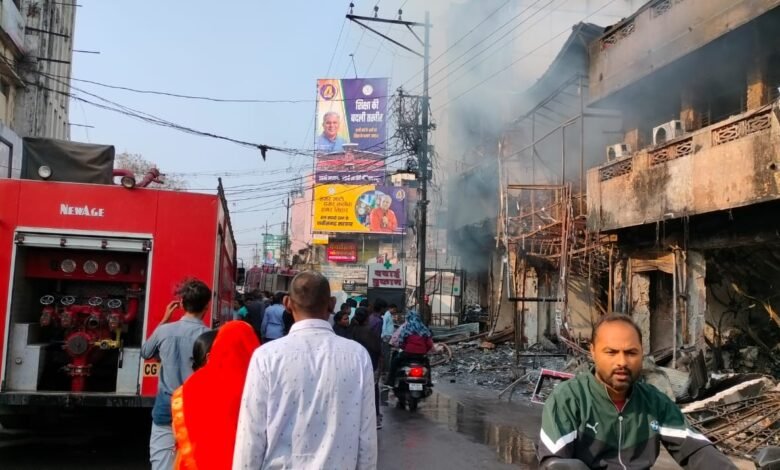 Dispatch News.
On Sunday morning, a massive fire surrounded three stores and several houses near Phool Chowk. It is one of the oldest and most cramped market areas in Raipur. However, there were no reported casualties.
A card-making shop, a kitchenware shop, and an electrical shop got destroyed in the fire that broke out around 5:00 a.m. on Sunday, allegedly due to a short circuit in the electrical shop. Though the (electrical) shop owner claimed he had checked everything, in his shop, before closing it down on Saturday night. He dismissed the possibility of a short circuit.
Reportedly, there is a godown of papers meant for making wedding cards just above the wedding card shop owned by Badri Narayan Bhutra, adjacent to the electrical shop, on the first floor, which helped the fire spread rapidly after the short circuit. Because of the narrow lane, the fire department had to work hard to get to the first and second floors of the buildings on the back. To reach the back side of the buildings, they had to park the firefighter vehicles on the main road and install more pipes.
A power pole in front of the shop also got destroyed. According to locals, a child discovered the fire first. After receiving the information, the firefighters rushed to the scene. Until the completion of this report, the firefighters were fighting the fire on a war footing. They cut the iron grills of the houses with a gas cutter and went inside to put out the fire.
The fire reportedly destroyed properties worth crores, including wedding cards, electrical goods, and kitchen items.
The parliamentary secretary and MLA Vikas Upadhyay, who assisted the firefighters, speculated that the fire may have started due to a short circuit in the electrical shop. He also stated that traffic made it difficult for the firefighters to manoeuvre the vehicle around the backside of the buildings. He admired the fire department's efforts to put out such a large fire. The market area had had previous reports of Fires.