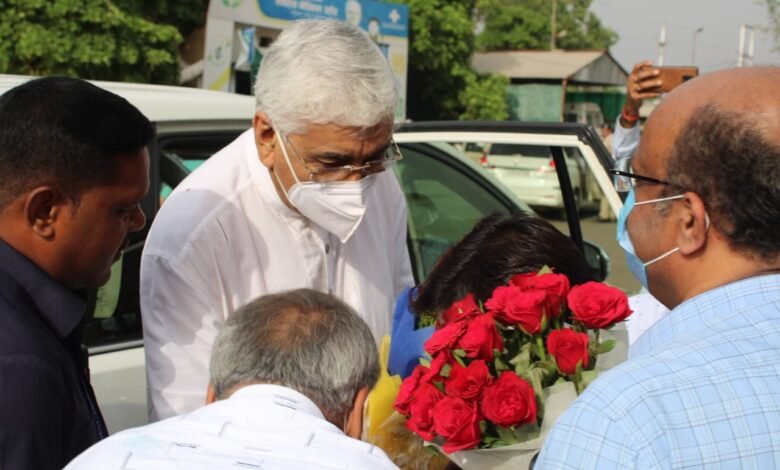 Uncategorized
Health Minister TS Singhdeo, who is on the Mahasamund tour, inspects the district hospital
Dispatch News.
Mahasamund. On his visit to Mahasamund today, Health Minister TS Singhdeo started the tour by inspecting the District Hospital, Mahasamund. During this, Health Minister TS Singhdeo visited the district hospital premises with three operation theatres, availability of beds in the hospital, availability of oxygen pipeline in ICU, availability of medicines, emergency exit, arrangement of food for patients, oxygen plant and other important things. He talked to the staff and patients working in the hospital and got information about the facilities available to them and the management shortcomings.
After this, the Health Minister reached the Government Medical College; where he, together with the college officials, inspected Anatomy Dissection Hall, Histology Lab, 3 Library Rooms and proposed construction work, Skill Lab, Anatomy Museum and Faculty Reading Room. Inspected other arrangements, including Demonstration Room, Bio-Chemistry Lab, Physiology Lab, and Hematology Lab, and got detailed information on the management system and other subjects on the campus.
After this inspection, Health Minister TS Singhdeo reached Congress Office (Rajiv Bhawan) Mahasamund, where he inspected the construction works and met Congress office-bearers. On this occasion, Devendra Bahadur, MLA Basna, Keshav Chandrakar, District member Bagbahra, Ravi Nishad, Congress President Rural, Rashmi Chandrakar, District President Congress Committee, Mahendra Chandrakar, Farmers Welfare Vice President, Khilwan Baghel, City President Congress, Dhilu Nishad, Rural President Congress, Shakun Chandrakar, City Congress President, Lakshmi Devangan, State Secretary Mahila Congress, Rashi Women, Leader of the Opposition, Municipality, Gurmeet Chawla, Alderman, Somesh Dave, District Joint General Secretary, Anwar Hussain, Alderman, Yatendra Sahu, District President, Sachin Gaikwad, District Member, Ranjit Kosaria, State Secretary Congress and other dignitaries were present.