Uncategorized
CM Baghel and Union Min Scindia virtually flagged off the Bilaspur-Indore-Bilaspur flight service
Raipur: Chhattisgarh chief minister Bhupesh Baghel and union civil aviation minister Jyotiraditya Scindia on Monday virtually inaugrated the flight services between the judicial capital i.e. the 'Nyaydhani' of Chhattisgarh, Bilaspur and Indore, the financial capital of Madhya Pradesh. Chief minister Baghel from his residence office in the capital city Raipur and union minister Scindia from New Delhi virtually flagged off the flight from Bilasa Devi Kenwat Airport, Chakarbhanta Bilaspur.
While congratulating the residents of Bilaspur and Indore on the occasion of the launch of the Bilaspur-Indore airline, chief minister Bhupesh Baghel said that Chhattisgarh Government is making every possible effort to ensure the expansion of the air services and connectivity. He demanded the commencement of air services from Bilaspur to other major cities such as Mumbai, Kolkata, Chennai, and Bangalore.
Urging the union minister Jyotiraditya Scindia to start international air service from Swami Vivekananda Airport Raipur and to establish an International Cargo Hub here, Baghel said that Raipur Airport has been developed as per the international standards and is now ready to host the international flights. He also requested union minister to commence air services for cities like Varanasi, Ranchi, Patna, and Bhubaneshwar, while connecting Ambikapur to Bilaspur, Raipur under the Regional Connectivity Scheme.
Scindia said on the occassion that the central government is ready to provide all possible help for the expansion of aviation services in Chhattisgarh. Congratulating and extending best wishes to the residents of Bilaspur and Indore on the commencement of this new flight service, he said that the demand for providing a night landing facility at Bilaspur airport is fair, but additional land would be required for the expansion of the runway of the airport.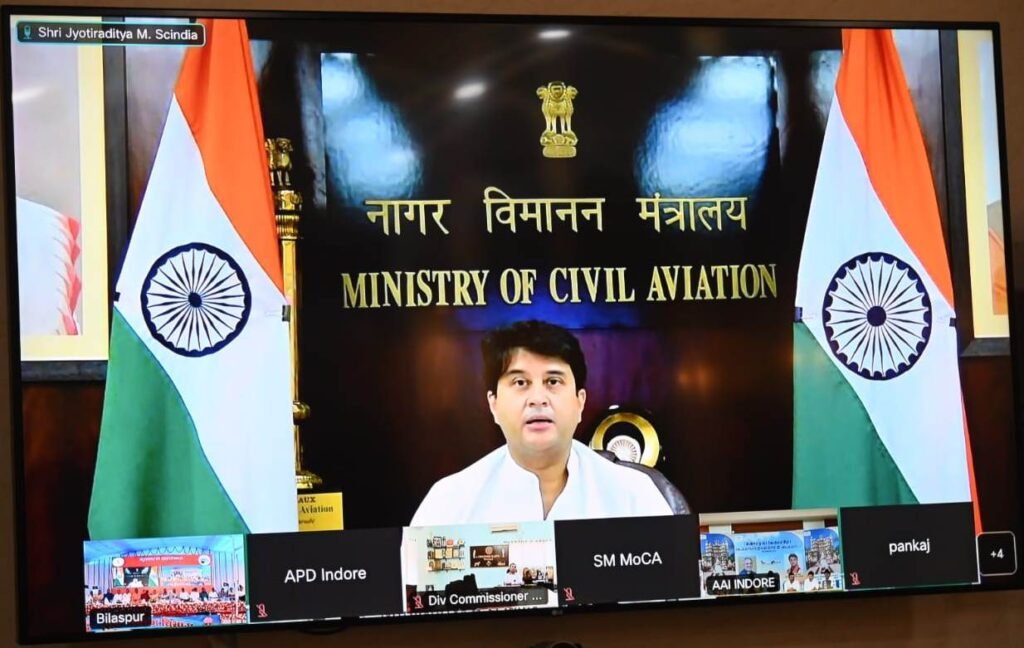 Bilaspur-Indore-Bilaspur flight service will be available four days a week including Monday, Wednesday, Friday, and Sunday. The flight from Bilaspur will depart at 11:35 am and reach Indore at 1:25pm. Similarly, the return flight from Indore will depart at 1:55 pm and will reach Bilaspur at 3:45 pm. Around 50 passengers boarded the first flight today from Bilaspur to Indore. The 72-seater aircraft is being operated by Alliance Air on this route.