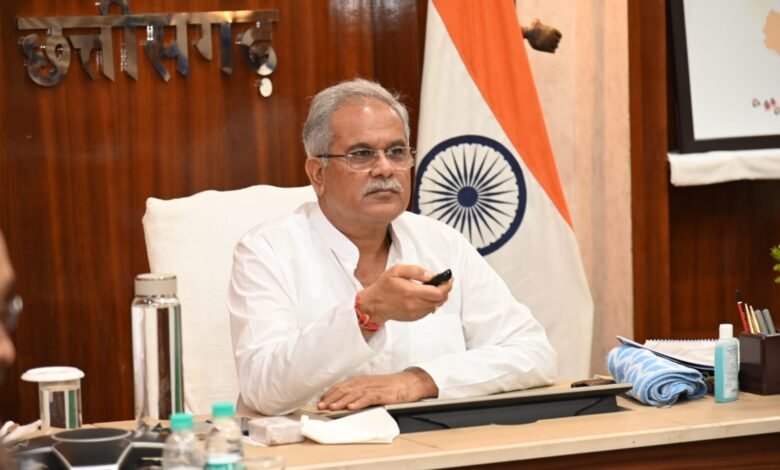 Uncategorized
31 districts in Chhattisgarh from this week: On September 2-3, CM will inaugurate the new districts.
Dispatch News.
This week, Chhattisgarh will have 31 districts. On September 2 and 3, Chief Minister Bhupesh Baghel will inaugurate the Mohla-Manpur-Ambagarh outpost, Sarangarh-Bilaigarh, and Khairagarh-Chhuikhadan-Gandai districts in a grand ceremony. The administration has charged the crowd with mobilising at these events, waving placards thanking the Chief Minister and raising slogans in support. Each officer has been assigned duties with a written order.
According to the Chief Minister's schedule, on September 2 at 1 p.m., Chief Minister Bhupesh Baghel will inaugurate the 28th district of Chhattisgarh, 'Mohla-Manpur-Ambagarh Chowki,' at the Mohalla mini stadium. Amarjeet Bhagat, Minister of Food and Civil Supplies, will preside over the event. The following day, on September 3, at 11 a.m., 'Sarangarh-Bilaigarh' will be inaugurated as the 30th district at Sarangarh's Khelbhatha ground. The Chief Minister will be the special guest here, with School Education and Tribal Welfare Minister Dr Premsai Singh Tekam presiding.
On September 3, at one o'clock in the afternoon, Khairagarh-Chhuikhadan-Gandai is to be inaugurated as the newly formed 31st district of Chhattisgarh at Raja Fateh Singh Sports Ground in Khairagarh. Food and Civil Supplies Minister Amarjeet Bhagat will preside over the function here. At the inauguration of the newly formed districts, MPs and MLAs, including ministers and local public representatives, will also participate.
The new district is getting established as separate from Mohla-Manpur-Chowki Rajnandgaon. It is bounded on the north by Tehsil Chhuria of District Rajnandgaon, on the south by Durgkondal Tehsil of Kanker, on the east by Daundi Tehsil of Balod, and on the west by Maharashtra. It will be a part of the Durg division. The new district contains 499 villages, and the overall land area is 2 lakh 14 thousand 667 hectares. The total population is 2 lakh 83 thousand.
'Sarangarh-Bilaigarh' consists of sub-division Sarangarh, Tehsil Sarangarh and Barmakela of district Raigarh and sub-division Bilaigarh and Tehsil Bilaigarh of district Balodabazar-Bhatapara. Its northern boundary meets the Pusaur tehsil of Raigarh. In the south is Saraipali district of Mahasamund, in the east, is Bargarh district of Odisha, while in the west comes Kasdol tehsil of Baloda Bazar district. The population of this new district is a little more than 6 lakh 17 thousand. It will have 1406 schools, seven colleges, 33 banks, 03 projects, 141 health centres, ten police stations and two outposts.
During the Khairagarh assembly by-election, the Chief Minister had promised a new district from the election platform. Now in a few months, this district will also come into existence. This district has a population of 3 lakh 68 thousand 444 people. There are 494 villages and three urban bodies in total. Khairagarh and Gandai-Chhuikhadan will be sub-divisions. Gandai, Chhuikhadan, and Khairagarh will be the three tehsils.