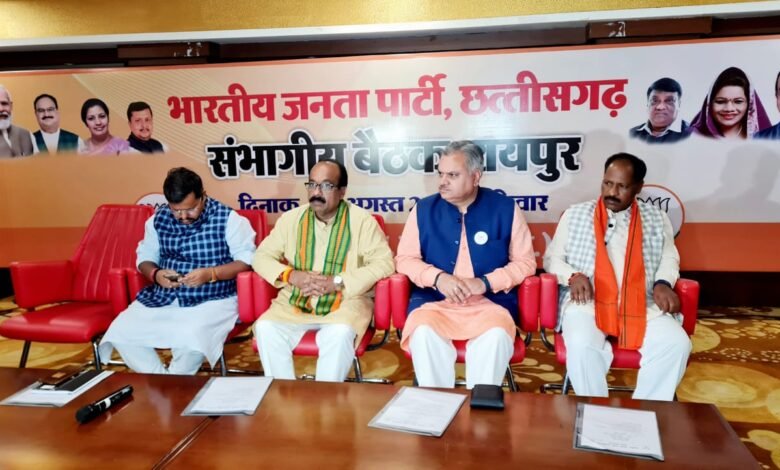 Politics
Trending
Chief minister's residence to be gheraoed by one lakhyouths on Aug 24
Raipur:An important meeting of the state office bearers of six Morchas of the Bharatiya Janata Party was held on Sunday at the state BJP office, Kushabhau ThakreParisar, to chalkout strategies for the success of the massive demonstration to be staged in protest against Congress government of the state on August 24, raising the issues of unemployment, corruption and law and order. Chief minister's residence will also be gheraoedon the occasion in which over 1 lakh youths are expected to participate, said BJP leaders Ajay Chandrakar and Brijmohan Agrawal.
Regional organisation general secretary Ajay Jamwal, state co-in-charge Nitin Nabin, organization general secretary Pawan Sai, state general secretary BhupendraSavanni were present in the meeting. BJYM national president and Lok Sabha MP Tejasvi Surya will lead the agitation, they said.
Meanwhile, Jamwal gave necessary directions to the office bearers of the fronts in view of the 24th August 'Halla Bol' movement. He said that all fronts have an important role and coordination dialogue in Halla Bolmovement is to mobilize all fronts with better coordination.
Nabin said that the government of Chhattisgarh has not done anything, but has left no stone unturned to take claim credits through advertisement and lying. In the name of employment and employment allowance, the youths of Chhattisgarh were cheated continuously. They said that all the fronts should get involved in their role and speak out.
Sai instructed all the fronts to divide the work and get involved in the work soon.
State officials of Backward Classes Front, KisanMorcha, Scheduled Caste Morcha, Scheduled Tribes Morcha, Minority Morcha, Mahila Morcha were present in the meeting.