Uncategorized
Union Ministry of Rural Development approves Chhattisgarh's proposal to increase labour budget under MNREGA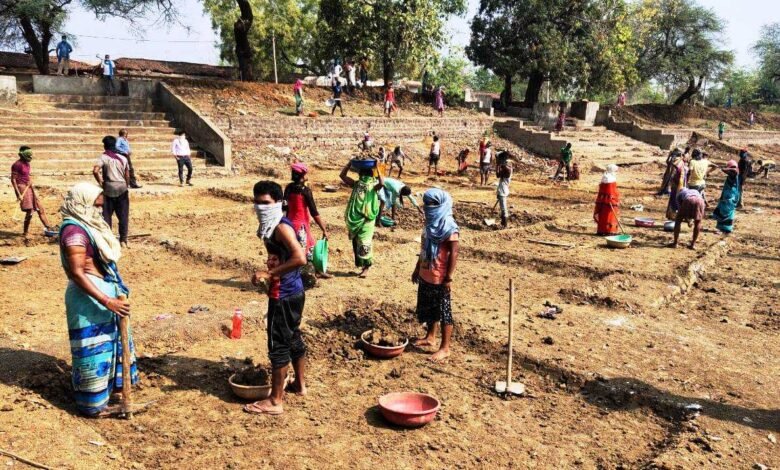 Raipur: The Union
Ministry of Rural Development has approved an increment of 2 crore 22 lakhs
human labour days in Chhattisgarh's labour budget of MNREGA (Mahatma Gandhi
National Rural Employment Guarantee Act). Chhattisgarh's target of employment
generation under MNREGA for the current financial year 2021-22 will increase
from 13.50 crore human labour days to 15.72 crore human labour days by this
increment. The labour budget of the state was approved in a recent meeting
between senior officers of Panchayat, State Government Rural Development
officers, Secretary, and other officers of the Ministry of Rural Development,
Government of India.
In the current
financial year 2021-22, Chhattisgarh had already achieved the target of
generating 13 and a half crore human labour-days of employment under MNREGA.
After achieving the desired target in February itself, Panchayat and Rural
Development Minister Shri T.S. Singhdeo had instructed senior departmental
officers to send an increment proposal to the Government of India in view of
the comprehensive work being done in the state under MNREGA. Additional Chief
Secretary, Panchayat and Rural Development Department Renu G. Pillay and MNREGA
Commissioner Mohd Kaiser Abdulhaq along with the officials of Union Rural
Development Ministry have approved the state government's proposal to increase
the labour budget.
It is worth mentioning
that the state government is working extensively towards providing
income-generating employment for Chhattisgarh's rural populace. Six MNREGA
labours of the state have been honoured by Union Ministry of Rural
Development's for their commendable work under project Unnati. Moreover,
numerous rural families have become financially stable and self-reliant with
government intervention. This year, as many as 54 lakh five thousand workers of
more than 28 lakh families have been given work under MNREGA and employment of
more than 100 days has also been provided to four lakh 75 thousand 374
families.