Uncategorized
Panchayat and Rural Development Minister TS Singh Deo chaired departmental meeting to discuss PESA rule in detail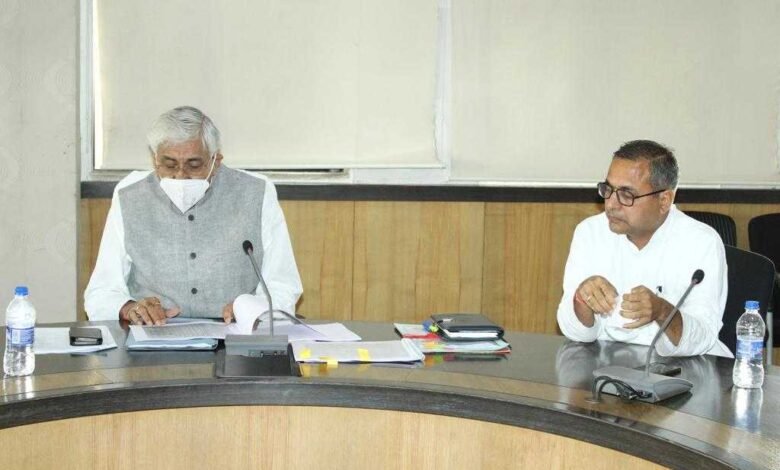 Raipur: A comparative
study of Chhattisgarh Panchayat Provisions (Extension of the Scheduled) Rules
2021 and PESA rules of other states was done in a departmental meeting held
under the chairmanship of Panchayat and Rural Development minister TS Singh
Deo.
Various topics
including Gram Sabha, role of Gram Panchayat in Gram Sabha, workload of
secretary, decision in Gram Sabha, Chairman/President of Gram Sabha, quorum of
the meeting, meeting Maintenance of Proceedings of Gram Sabha meeting,
Proceedings of organizing Gram Sabha meetings, Standing Committees of Gram
Sabha, and Objection to the decision of Gram Sabha under PESA rule in 14 fully
scheduled districts and 06 partially scheduled districts were discussed in the
meeting.
Besides, other major discussions
were on power to make arrangements for regulating the sale and consumption of
any narcotic substances, ownership of Minor Forest Produce Scheduled Power to
prevent encroachment of land in areas and to take appropriate action to restore
any illegally encroached land of Scheduled Tribes, power to control money
lending to Scheduled Tribes, power to market control, superstition, witchcraft.
Prior recommendation of the Gram Sabha or Panchayats shall be made mandatory at
the appropriate time to provide concessions to the Gram Sabha to protect the
traditions and customs of the people and to protect their cultural identity.
The planning and management of small water bodies in the areas would be handed
over to the Panchayat at the appropriate level.
Deo gave his
suggestions to the departmental officials on the aforementioned matter after
discussion in detail.
Discussion on the
opinion of the Council of Ministers on the draft of the Chhattisgarh Panchayat
Provisions (Extension of the Scheduled) Rules 2021
Deo also discussed the
structure, power and functioning of Gram Sabha in 14 Scheduled Districts and 06
Partially Scheduled Districts, formation of new village, structure of Gram
Sabha, powers and functions of Gram Sabha, President of Gram Sabha, Gram
Panchayat Work of Secretary, Duties and Responsibilities towards Gram Sabha,
Date, place and time of Gram Sabha meetings. Besides, comparative review of
PESA in Maharashtra, Rajasthan, Himachal Pradesh and Andhra Pradesh was also
done in the meeting.