Uncategorized
National Quality Assurance Certificate to six Primary and five Urban Primary Health Centers of CG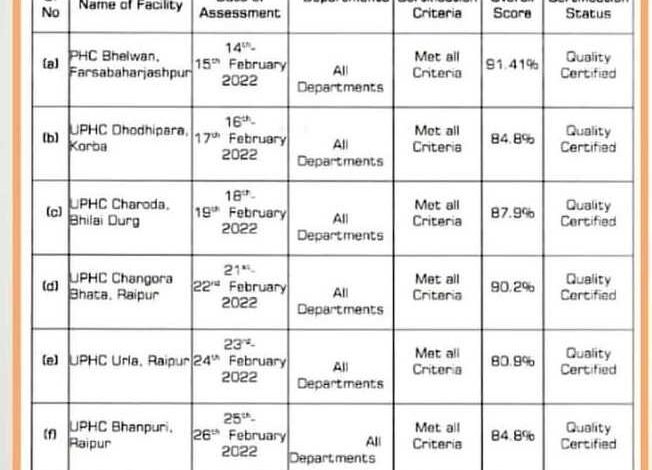 Dispatch News.
Raipur. The Union Ministry of Health and Family Welfare has awarded the National Quality Assurance Standard (NQAS) certificate to six government hospitals in Chhattisgarh for providing excellent healthcare to patients. These include five urban primary health centers and one rural primary health center. In addition, Jagdalpur District Hospital and Lormi Community Health Center received the Lakshya Certification for excellent facilities of delivery room and maternity operation theater and good care of pregnant women.
Health Minister T.S. Singhdeo has congratulated the officers and staff of all these hospitals who received the Certificate of Excellence for dedicated healthcare services. He expressed confidence that these hospitals will continue to serve the patients while maintaining their excellence and will set new benchmarks for other hospitals of the state. He congratulated the field officers and employees of the concerned districts of the Health Department for this achievement.
The Union Health Ministry awarded the National Quality Assurance Standard Certificate to the Primary Health Center Bhelwa, Farsbahar in Jashpur district. At the same time, five urban primary health centers of the state also received this certificate. These include three urban primary health centers Changora Bhatha, Urla and Bhanpuri in Raipur, Dhodipara in Korba and Charoda urban primary health center in Durg district.
 In January-February this year, a team of the Union Health Ministry inspected these hospitals to test the quality of services available to the patients there. They had also taken feedback from patients in this regard. The hospital's services and satisfaction level are tested on several parameters by a team of experts before awarding the "National Quality Assurance Standard" certificate and the 'Lakshya' certificate. Only hospitals that meet these stringent standards are issued quality certificates by the Union Health Ministry.