Uncategorized
MP Rahul Gandhi spins the Charkha at the Sevagram exhibition.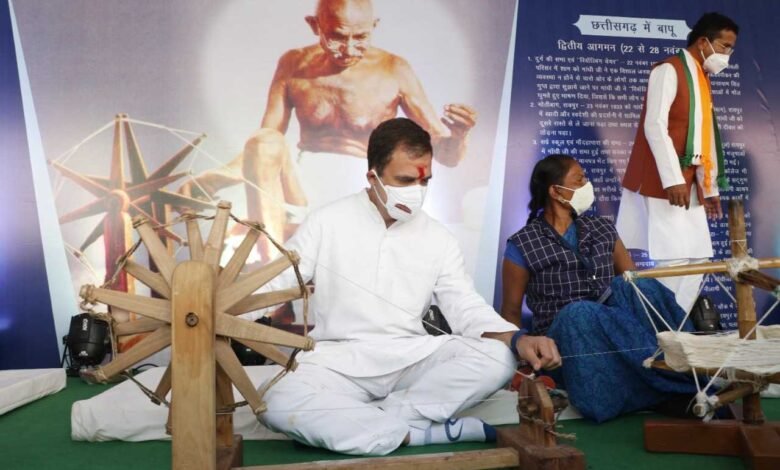 Dispatch News.
Raipur. MP Rahul Gandhi visited the exhibition showing Gandhiji's life story at Nava Raipur Sevagram and at Sevagram exhibition site, set up in the Science College ground of the capital Raipur. He also met women artisans Maheshwari Sahu, Basanti Sahu and Anusuiya Sen of Ujala Village Sangathan, Serikhedi. MP Rahul Gandhi also used the spinning wheel here and gave a message to follow the path shown by Gandhiji. Chief Minister Bhupesh Baghel was with him. Basanti Sahu and Maheshwari Sahu, women artisans of Ujala village organization Serikhedi, were excited to meet MP Rahul Gandhi.
The exhibition has rare information and photos of his life like – Seven-year-old MK Gandhi, with colleagues, with Satyagrahi, Gandhi in cap, Violation of Salt Law, Serving the Leprosy affected, Azad Hind Army, Bardoli Satyagraha, with refugees, at Sevagram Kutiya, Peshawar public meeting, in prayer, fasting for unity, inauguration of the temple, after the earthquake, the last prayer of January 29, 1948 and Bapu's first arrival in Chhattisgarh From 22 December 1920 and from 22 to 28 November 1933. On this occasion a large number of public representatives including members of the cabinet and people of Gandhian ideology and speakers were present. Information about the master plan of Naya Raipur Sevagram place was shown at the exhibition site.