Uncategorized
More than 25 lakh people receive treatment under Mukhyamantri Haat-Bazaar Clinic Scheme.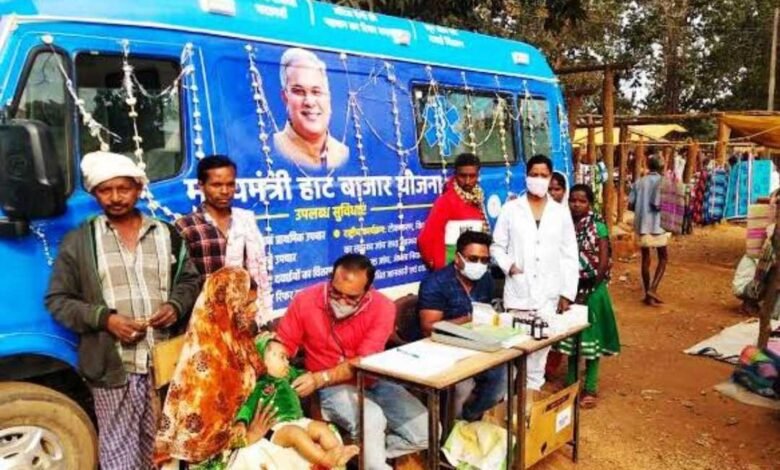 Dispatch News.
Raipur. So far more than 25 lakh people of villages and remote areas have received free treatment through the Mukhyamantri Haat-Bazaar Clinic scheme under the state government. Through the scheme, the government will provide OPDs in health camps to be held in Haat-bazaars. Along with eight types of health services, Malaria, Dengue, HIV, Diabetes, Anaemia, TB, Leprosy, Hypertension and Eye disorders are screened. Pregnant women receive health check-ups in these camps. Free medicines are also given to the people found to be sick after the test. If necessary, treatment is done after referring to high level health centers.
Under Mukhyamantri Haat-Bazaar Clinic Yojna, rural areas will get treatment through 397 dedicated branding vehicles and medical teams across the state. So far, 25 lakh three thousand people have received treatment by the medical teams of the Health Department in the Haat-bazaars of forest areas and remote areas. Free medicines have been given after examining 22 lakh 81 thousand 354 patients who reached the Haat-Bazaar clinics. These facilities have been provided to the people through 71 thousand 640 haat-bazaar clinics in 1636 haat-bazaars of the state.
Apart from providing free treatment, medical consultation and medicines to the needy in the Haat-Bazaar clinics, the Mobile Medical Unit also provides treatment for Malaria, HIV, VDRL, Diabetes, Anaemia, TB, Leprosy, Hypertension and Eye diseases.