Uncategorized
Health Minister TS Singhdeo holds a joint virtual meeting on third wave of Coronavirus in Surguja.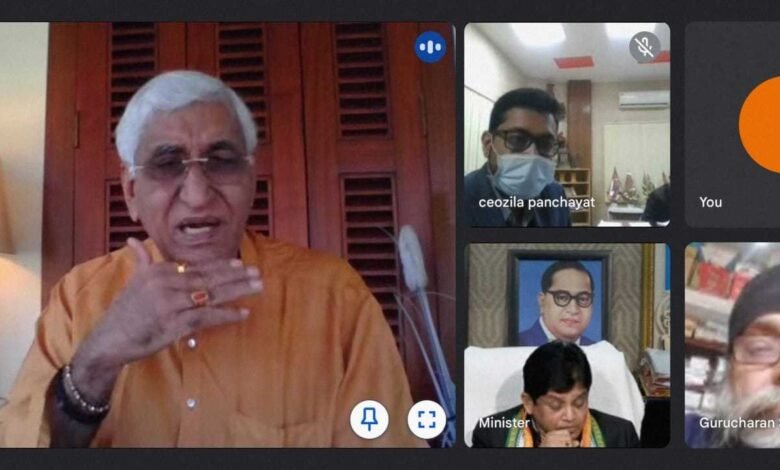 Dispatch News. 
Raipur. Today, Health Minister T S Singhdeo and Minister in charge of Urban Administration and Surguja, Dr Shiv Dahria held a joint virtual meeting. In this virtual meeting, senior officers of the department including Chief Executive Officer, Surguja District Panchayat, public representatives and dignitaries associated with private institutions were present. Chief Executive Officer, Surguja District Panchayat informed that given the increasing cases of Coronavirus infection, preparations are underway for health services, including increasing the Coronavirus testing, vaccination as well as ensuring availability of beds and equipment in the hospital. He said that at present, Coronavirus cases are increasing in urban areas only, but to prevent its spread in rural areas, they have added Covid surveillance in the village, which will break the chain of infection.
In this meeting, Health Minister and public representative of the area, TS Singhdeo said that India has more than one lakh cases of Coronavirus infection, now the third wave is in the initial phase. While Surguja has seen a positivity rate of 2.59% with 55 patients yesterday, the increasing cases in the state in the last 10 days are indicating the spread of infection. The Health Minister further said that given the situation of Omicron in other countries, it seems that this infection will reach more people, although the death rate is low. We have to determine suitable health services, due to no major symptoms in this infection, most of the patients will be less likely to go to the hospital, but suitable arrangements are needed for the infected patients living in home isolation. We need to emphasize "home monitoring" instead of "home isolation". He added that Dr Paul of NITI Aayog has said that India may have about 14 lakh positive patients. If Chhattisgarh gets one lakh patients, then we should be prepared for at least even 5% of them to be hospitalized. Health Minister TS Singhdeo in the first and second wave, some of the medicines whose protocols were issued by ICMR, have been removed. We need guidelines for these new medicines. The Health Minister said that it will be necessary to bring public awareness about Covid-19 behavior by controlling the crowd in socio-religious programs.