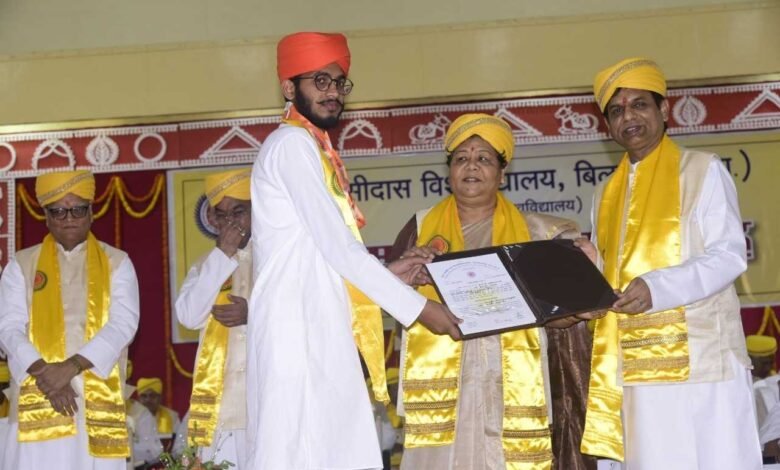 Uncategorized
Governor Anusuiya Uikey attends the convocation ceremony of the Central University.
Dispatch News.
Governor Anusuiya Uikey attended the 9th convocation ceremony held at Guru Ghasidas Central University campus here today and presented gold medals to 141 outstanding students and PhD degrees to 81 students. Earlier, a convocation procession was taken out and with the students, Governor Anusuiya Uikey and Dr. Subhash Sarkar, Minister of State, Ministry of Education, Government of India also posed for a group photo. On this occasion, National Secretary of Education Culture Upliftment Trust Atul Kothari, MP Arun Sao, Beltara MLA Rajneesh Singh, Vice Chancellor of Atal Bihari University A. D. N. Vajpayee, Vice Chancellor of Pt. Sunder Lal Sharma Open University Vansh Gopal, Vice Chancellor of Shahi Nandkumar Patel University Nand Kumar Pateria, Chancellor of the University Ashok Modak, Vice Chancellor Alok Kumar Chakrawal and Registrar Professor Shailendra Kumar were also present.
Gold medals were given to 141 students of two years i.e. year 2019-20 and year 2020-21 in the convocation ceremony. Similarly, 81 students were awarded PhD degrees. Addressing the convocation, the Governor said that Bilaspur Central University was established in the name of Guru Ghasidas, a famous social reformer and founder of Satnam Panth. Guru Ghasidas always suggested the right path for the upliftment of the weaker section of the society. He said that if you discharge your duties with full devotion, success in life is definitely achieved. With determination and high spirits, even the toughest road becomes easy. Encouraging the students, she said that we also have responsibilities towards the society and the nation, which we should discharge with full devotion. She wished all the students good luck and a bright future. She said that convocation is not the end, but it is the beginning. After this, there will be a chance to learn new experiences by entering new areas of life. Education makes us cultured, gentle and temperate.
Addressing the students, Dr. Subhash Sarkar, said that an optimistic outlook helps in increasing self-confidence. Education enables you to identify and solve the problems of your life, society and country. He said that the National Education Policy 2020 will prove helpful in making the youth self-reliant. Enriched by the legacy of Sant Shiromani Guru Ghasidas, this university will be successful in establishing its identity as an important center of higher education in the country and abroad. 
Atul Kothari, National Secretary, Shiksha Sanskriti Utthan Nyas said that the convocation ceremony is an important milestone in the life of every student. There has been a Gurukul tradition of education in India. The process of learning something new every day should be continuous. 
Member of Parliament Arun Sao said in his speech that today the students have taken the pledge, and they should contribute in building a better society and country by following it in letter and spirit.