Uncategorized
Financial empowerment of people is the ultimate goal of schemes of the state government: Bhupesh Baghel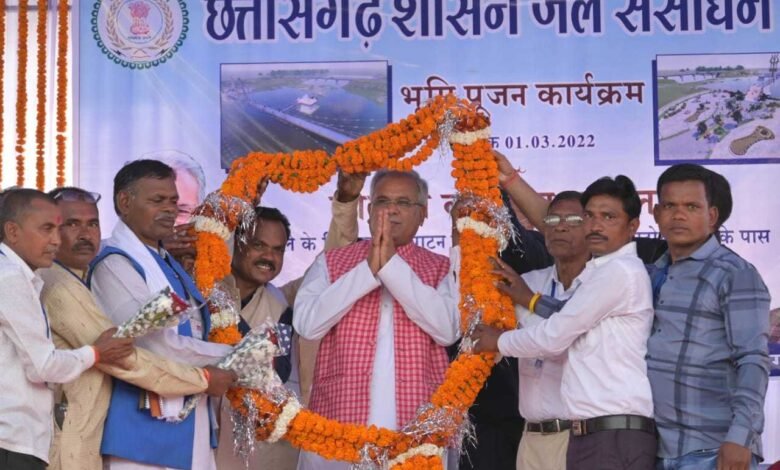 Raipur: "Financial empowerment of people is the ultimate goal of the schemes being run by the state government. Chhattisgarh government has formulated unique and one-of-its-kind schemes to give impetus to the rural economy. These schemes have become a topic of discussion all over the country today as the 'Chhattisgarh model of development'. Our government is committed towards the development of all sections of society", said Chief Minister Mr. Bhupesh Baghel.
Baghel was addressing a programme organized at Thakurain Tola of Patan in Durg district today.
Chief Minister added that a scheme has also been started for the landless farmers living in rural areas. A financial assistance of Rs 6000 is being given to the landless laborers under the Rajiv Gandhi Grameen Bhumiless Krishi Mazdoor Nyay Yojana. MP Rahul Gandhi also heaped praise on this scheme. He has asked to hike the amount being given under this scheme. The Chief Minister said that the central team is also going to come to study the model of rural development in Chhattisgarh. Gauthans established across the state has proved to be  successful in curbing stray cattle menace to a great extent. Uttar Pradesh is also eyeing towards implementing this scheme to tackle stray cattle menace.
In the program organized at Thakurain Tola, the Chief Minister inaugurated and performed Bhoomipujan of various construction and development works worth about Rs 30.63 crore. This includes Lakshman Jhula to be built at a cost of Rs 19.40 crore, embankment of Kharun river at a cost of Rs 2.75 crore and Bhumipujan of glazing unit to be built at a cost of 1.40 crore in Sonpur. Chief Minister also inaugurated the community irrigation scheme of CREDA in Thakurain Tola. Apart from this, he also inaugurated various works worth Rs 6.86 crore related to the health sector. These include the Model Rural Health Research Unit to be built at Jheet with a cost of Rs 2 crore, Bhoomipujan of the Staff Quarter to be built at a cost of Rs 2.2 crore in Patan and inauguration of   Oxygen Plant worth Rs 1.30 crore at Patan Hospital, 10 bed isolation ward in Jheet, and buildings of sub health centers of Belhari Achanakpur and Jamgaon M. On this occasion, Chief Minister Bhupesh Baghel launched "Mukhyamantri Noni Sashaktikaran Yojana" to provide financial assistance to the first two daughters of labor families. He handed over cheques of Rs 20,000 each to 16 beneficiary daughters. On this occasion, he also presented a tricycle to Mr. Dukhit Ram.
Addressing the programme, Chief Minister further said that people of the area were demanding to make Lord Shiva Darshan accessible at all times. Keeping in view demands of the people, foundation has been laid for the construction of Laxman Jhula here today. I am happy to see the smile on the faces of the elders and youth of the village. He said that the temple of Mahadev in Thakurain Tola has been built by the Nishad Samaj and their religious sentiments are attached to this temple. In this temple 'Pran Pratishtha' has been done by Saint Poet Late Pawan Diwan. The construction of Lakshman Jhula will provide a lot of convenience to the devotees here. Along with this, Thakurain Tola will also be developed as a major tourist spot. Garden and embankment will be built here along with Laxman Jhoola. He said that to provide relief to the farmers of Sikola and Thakurain Tola, a pond filling scheme was started through the solar community irrigation project.  Similarly, the glazing unit at Sonpur will create new employment opportunities for the potters of the region and locals.
The Chief Minister said that new schemes have been started for the farmers, including loan waiver, purchase of paddy on support price, to promote agriculture in the state. Rural development has increased rapidly through the state government's flagship Narva, Garwa, Ghurva, Bari scheme. The State Government has done the work of developing the infrastructure to provide irrigation facilities through Gauthan and Solar Pump. He added that Gauthan is being developed as a rural industrial park. Besides, work is being done to boost the income of farmers and villagers. Oil extracting mills are being established in Gauthans, work is being done in this direction through Telghani Board. Charota, Neem, Karanj are in abundance in the village and oil is extracted from them. However due to lack of proper facilities, people were not able to take advantage of it. 
The villagers congratulated the Chief Minister for the Bhoomipujan of Laxman Jhula. The dream of our ancestors has been fulfilled because of you, said the villagers. Chintaram Nishad, an elderly of the village told the Chief Minister that he had fulfilled the dream of all the elderly.