Uncategorized
Executive Engineer among four caught red-handed by ACB for accepting bribe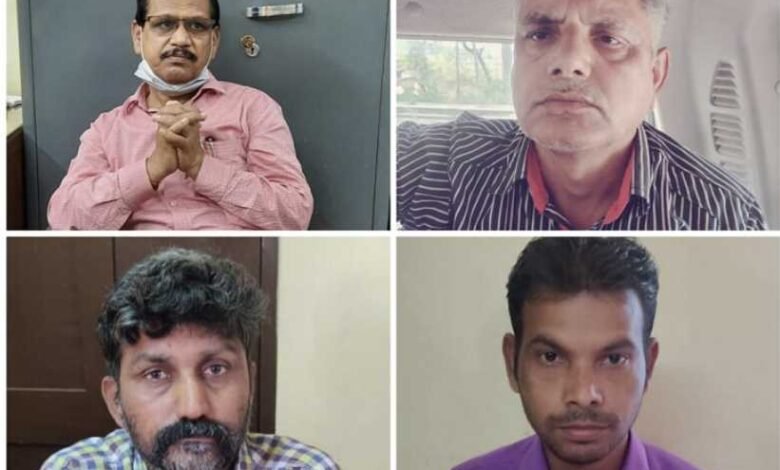 Raipur:As part of the ongoing action by Anti Corruption Bureau (ACB) against corruption, an Executive Engineer (EE) of MukhyaMantri Gram Sadak Yojana, a Principal and a Patwari and his aide have been arrested on Monday. According to information, EE Deendayal Jaiswal posted in Bemetara, school Principal posted in Surajpur and Patwari and his aide of Durg have been arrested on charges of corruption. EE Jaiswal was caught in Raipur and action was taken by the Raipur and Surguja unit of ACB under the directives of Additional SP Amruta Sori.
\Rs 2 lakh bribe demanded against clearance of bill, caught red-handed while accepting Rs 22000
A complaint regarding the bribe of Rs 2 lakh demanded by EE Jaiswal was made to the ACB against the approval of running bill of a complete work which was actually not completed. The ACB trapped the EE on Monday on the basis of the complaint. The accused EE resides in the New Shanti Nagar of Raipur. He had called the complainant with bribe money near Hanuman Mandir at Pachpedi Naka and was caught while accepting it.
\Principal caught while accepting Rs 2000 bribe
Principal of Dharampura Government Secondary School in Surajpur Shivdhar Ojha was caught red-handed while accepting bribe of Rs 2000. He demanded the bribe of Rs 8000 from a retired employees for the clearance of arrears of the 7th Pay Commission. The retired employees had already made the payment of Rs 5500 to the accused. The principal had been putting pressure on the employee for the remaining amount. The employee had complained to the ACB. 
Patwari demanded Rs 6000 bribe for land certification
ACB had received a complaint against Patwari Pramod Kumar Shrivastav of Kachandur village in Durg. The Patwari demanded Rs 6000 bribe for issuing a log book. The complaint was verified and found authentic. After it, the ACB laid the trap and caught the Patwari while accepting bribe of Rs 5500. Patwarisaide Lekhram Nishad was also caught on the bribe charge. It is to be mentioned, Shrivastav is the president of Durg-3 HalkaBlock Patwari Sangh.