Uncategorized
Daughters of labourer & peon in India Junior Women's hockey team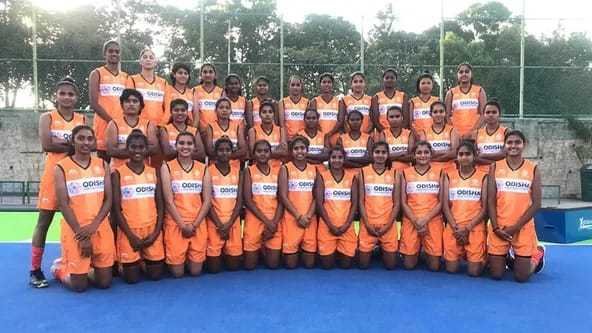 Raipur:Daughters of a daily wage labourer and a peon in the government department have brought laurels to Chhattisgarh through their hard work and dedication. Both girls, who used to practice hockey staying home unlike many others, have been selected in India Junior Women's Hockey team, announced on Sunday for the upcoming international tournaments this year. 
Anisha Sahu and Aanchal Sahu have been included in the 33-member Core Probable Group for the Junior Women's camp to prepare for major International tournaments, including FIH Women's Junior World Cup to be played in South Africa, this year. 
The Core Group was chosen from the 60 players who were called in for a three week camp at SAI, Bengaluru. Both Anishaand Aanchal belong to poor families and they fought all odds to attain this milestone. Unlike many other players, who are the products of academies/SAI centres/ sports hostels, the two girls of Rajnandgaon district have come from rural background and are going to represent India while continuing their game staying home, said their coach Anurag Shrivastav. Anisha plays in the mid-fielder position while Aanchal plays in forward position.
According to Anurag Shrivastav, coach of Anisha and Aanchal, parents of Anisha work as daily wage labourer and they hardly manage their both ends. On the other hand, father of Aanchalwork as a peon in the revenue department at Khairagarh and therefore her financial condition is little better than Anisha. Both Anisha and Aanchal are studying in Class XII in Guru Nanak H S School which is providing free education since Class VI. 
Both the players have played school nationals three-four times under Khelo India programme and they performed well for Chhattisgarh, said the coach. So far, goalkeeper Mrinal Choubeyhas played for India junior in boys' category while BalvinderKaur and Renuka Rajpur played for India Junior Women's team in 2010 and Renuka Yadav played for India Junior, said Shrivastav. 
The 33-member core group was selected after a three-week camp at the Sports Authority of India, Bengaluru Centre. The initial 65 players were picked on basis of their performance at the Hockey India annual domestic tournaments.
The new Core group includes goalkeepers Khushboo, MadhuriKindo and Kurmapu Ramya. Defenders Preeti, Neelam, MamitaOram, Mahima Tete, Nishi Yadav, Sanskriti Sarwan, Kajal Bara, Manita and Manju Chorsiya have been called up while midfielders Vaishnavi Phalke, Jyothi Edula, Jyoti Singh, HritikaSingh, Kshetrimayum Sonia Devi, Jyoti Chhatri, AshwiniKolekar, Priyanka Yadav, Nikita Toppo, Anisha Sahu and HinaBano have also been named in the list.
Forwards Annu, Beauty Dungdung, Taranpreet Kaur, RutujaPisal, Madugula Bhavani, Mumtaz Khan, Deepika Soreng, Chandana J, Kajal Sadashiv Atpadkar and Aanchal Sahu have also been named in the Core group. Chhattisgarh Hockey president Firoz Ansari, general secretary Manish Shrivastav and other office bearers congratulated Anisha and Aanchal.