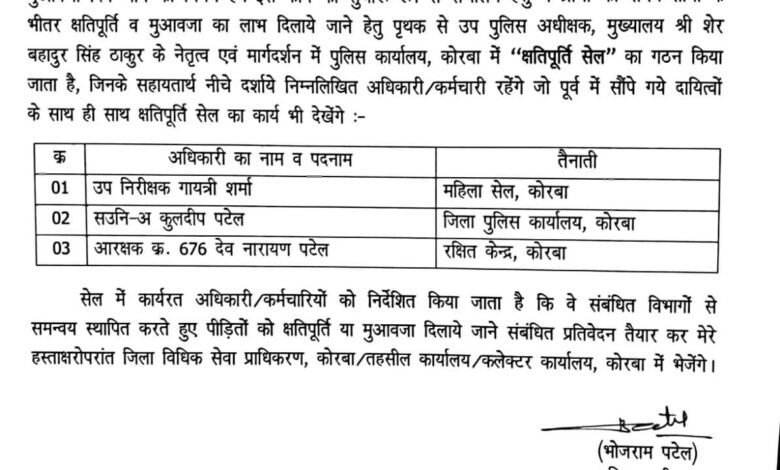 Dispatch News.
Raipur. Korba Police has begun a unique initiative so that the victims can get the compensation amount easily. Under this, they have formed a compensation cell in the office of the Superintendent of Police.
The government has made provision to compensate the aggrieved party in cases including natural calamity, accidental death, damage to crops, which are included under the Public Service Guarantee Act and are directed to provide assistance within the time limit, but due to lack of integrated system, the aggrieved party has to wander to get the compensation amount. At the same time, middlemen, looking for such opportunities, trap people and grab a large part of the compensation amount.
Taking cognizance of this fact, Superintendent of Police Korba Bhojram Patel has constituted a "Compensation Cell" in the office of the Superintendent of Police. Most cases of compensation to victims are related to the police. According to the arrangement made, on receipt of the information of such incidents in the police stations, the station in-charge will send its written information to the compensation cell, the employees posted there will meet the victims and do the necessary paperwork and coordinate with the Tehsil and collector offices to compensate the victims in time limit. With the cooperation of the Compensation Cell, the services provided under the Public Service Guarantee Act will be available timely, and the victims will get quick help as well as get rid of middlemen.
Superintendent of Police Bhojram Patel said that even in such cases of compensation which are not related to the police, we will provide assistance if the aggrieved party asks for help.