Uncategorized
Bilaspur MLA Shailesh Pandey inspects power substation site in Mangla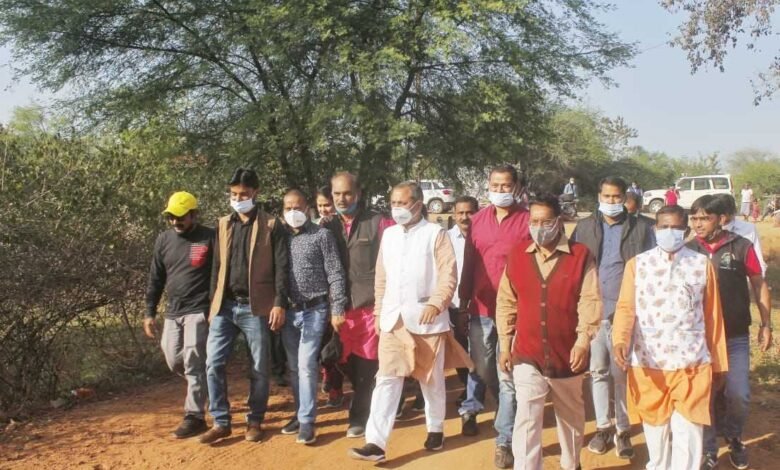 Raipur: Bilaspur MLA Shailesh Pandey on Tuesday inspected the 5.5 acres of land allotted at Mangla for the much awaited 132 KVA power substation approved for Bilaspur city. 
Pandey said that the target is to supply uninterrupted electricity in Bilaspur having nearly 1.25 lakh electricity consumers. Electricity is being supplied to 1.25 lakh consumers in Bilaspur urban area including 20,000 commercial and 85,000 domestic and about 1500 industrial areas from Tifra sub-station.
Electricity supply in urban areas is increasing by 10 per cent every year. The problem of tripping due to overload is frequent in mini sub-stations of Nehru Nagar, Shanichari and Brihaspati Bazar area and is also a problem for the officials of the electricity department to supply electricity in the middle of the city from different sub-stations. 
In view of such a situation, the work set up of 132 KV substation on 5.5 acres of land in Mangala area will be started soon, after which the people of the city will get rid of the problem of electricity supply.
Officials said that there is no shortage of electricity, but due to rain, storm, lightning damage, the power system is disrupted and it takes time to repair. Keeping in view the power pressure due to increase in electricity load of consumers day by day, 5.5 acres of land has been allotted for establishment of 132 KV power sub-station at a cost of Rs 22 crore to make the electricity system better and stronger under Bilaspur.
On the initiative of the MLA Pandey, 132 KV sub-station has been given to Bilaspur.
MLA Shailesh Pandey said that the demand for the new substation was made in the assembly session, as well as the problem was seriously brought to the attention of the government. Approval of Rs 22 crore was granted. Directions have been given to officials concerned for quick completion of the work.