Uncategorized
Bastar Cafes to be opened in Raipur and Delhi, CG Tea-Coffee Board decides on the strategy to promote farming of tea and coffee in the state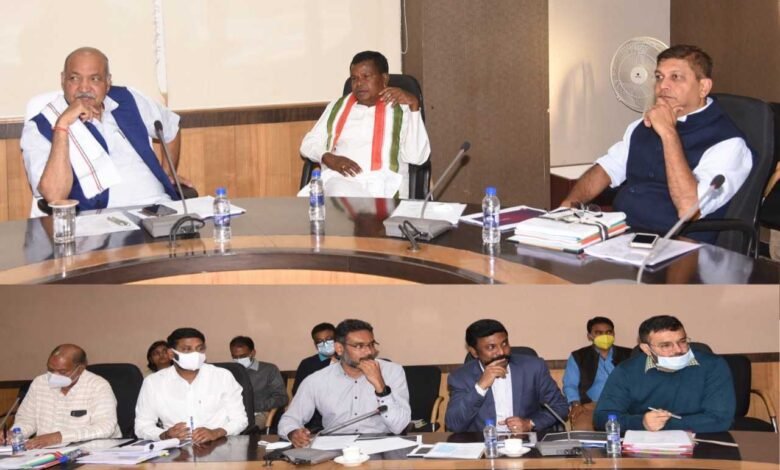 Raipur: In the meeting of Chhattisgarh Tea-Coffee Board  chaired by Agriculture and Water Resource Minister Ravindra Choubey, decision to expand the area under tea-coffee cultivation in the state and to sign an MoU with private companies for marketing of the coffee produced in Bastar has been taken. An initiative has been taken to open Bastar Cafes in Raipur and New Delhi for sale and marketing of the coffee produced in Bastar. It is noteworthy that presently, Bastar Café is being operated in Jagdalpur only. 
Choubey has directed the officials concerned to prepare a project to promote cultivation of tea and coffee in the plateau areas of Bastar and Surguja division, after conducting a thorough survey. He directed to sign MoU with private companies for marketing of the coffee produced in Bastar, with the condition that the name of Bastar would be compulsorily included in the brand name of the coffee. He has also given instructions to sanction the funds required from DMM for setting up the machine for processing of coffee. He has directed the officers to identify areas for coffee cultivation in Sukma district as well.
It was informed in the meeting that a plantation done in the 20 acres area of Darbha has started producing coffee beans. In the first phase, 8 quintals of coffee has been produced, which is being utilized at the Bastar Cafe opened in Jagdalpur. Nearly two kg of coffee is being consumed per day at this cafe. At least three more cafes can be started for utilization and marketing of the quantity of coffee being produced. Decision has been taken to open such cafes in Raipur and Delhi as well, so as to ensure branding of Bastar Coffee.
Officials informed that coffee has been planted in 55 acres of Darbha area of Bastar in 2021.  Presently, coffee cultivation is proposed in an area of 5108 acres in Bastar district, which includes 1075 acres in 9 villages of Tokapal block, 1027 acres in 11 villages of Lohandiguda, 1445 acres in 14 villages of Bastanar, 460 acres in 7 villages of Bakawand and 1101 acres in 13 villages of Darbha block.
It was also informed in the meeting that Agriculture College, Jagdalpur has completed the preparations for coffee plantation in 245 acres of land in Darbha. The Horticulture Department is taking action to receive 2.50 quintals of certified seeds of Chandragiri variety from Coffee Board Bangalore, which would be utilized for producing 5 lakh saplings. These saplings will be planted in an area of 500 acres. Likewise, Agriculture College Jagdalpur will also produce two lakh saplings from a quintal of certified seeds to be received from Coffee Board Bangalore. These saplings will be planted over an area of 200 acres. Target has been set to expand the area under coffee cultivation in 1000 acres of Bastar district every year. By the year 2026, nearly 5820 acres of land would be brought under coffee cultivation. Coffee Cultivation is being promoted in the state through convergence of various government schemes. 
In the meeting, the action plan for promotion of tea cultivation in Jashpur district and the resources required for tea-coffee production were also discussed. Industries Minister Kawasi Lakhma, Chief Secretary Amitabh Jain, Agriculture Production Commissioner Dr. Kamal Preet Singh, Managing Director of Tea-Coffee Board Arun Prasad, Horticulture Director Matheswaran V. and other officials were present in the meeting.