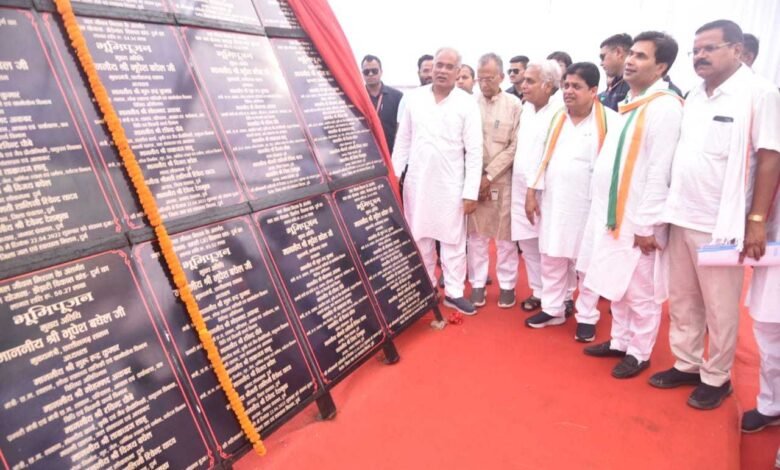 Uncategorized
Affordable healthcare facilities will be provided for patients at Hi-Tech District Hospital equipped with Hamar Lab and Surgical wing
Raipur: In a bid to provide affordable healthcare facilities including medical tests and surgeries, 'hamar lab' and surgical wing has been set up in Durg district hospital. Chief Minister Bhupesh Baghel inaugurated the Surgical Wing and Hamar Lab at District Hospital Durg today . Addressing this occasion, Chief Minister Shri Baghel said that with the launch of Hamar Lab, the medical facilities in the district hospital would become even better. Various types of medical tests done here will now be able to be done at a very low cost. It is worth mentioning that, all the above-mentioned tests are done in private institutions at a very high cost that cannot be afforded by all sections of the society. With the introduction of Hamar Lab, all the tests will be easily available at low cost tand every patient can avail quality healthcare facilities. Hamar Lab has been set up at a cost of Rs 50 lakh. 
After the launch, Baghel congratulated the Health Minister TS Singh Deo and the team of doctors of the district hospital. Health Minister Singh Deo thanked Chief Minister Baghel for the launch of the surgical wing and Hamar lab. During the inauguration, Deo participated virtually in the presence of Urban Administration Minister Dr. Shiv Dahariya, Home Minister  Tamradhwaj Sahu, Water Resources Minister Ravindra Choubey, MLA Arun Vora.

The surgical unit has been prepared at a cost of Rs 7 crore. It has 10 beds in the ICU. The medical facilities in the district hospital have increased with the help of a hi-tech surgical unit as well as the facility of a critical care unit. While the expansion of medical facilities in the district hospital will benefit the patients who cannot afford private healthcare facilities, the patients will not have to go elsewhere for quality treatment. The Chief Minister also launched the ASHA campaign on the occasion. Under this campaign, a special program will be run to nurture children with cerebral palsy. The Chief Minister met such children today. He praised the campaign. Along with this, he also started the campaign of a hemoglobin test of adolescent girl students.
On this occasion, Mayor Dheeraj Bakliwal, Collector Dr. Sarveshwar Narendra Bhure, SP Badrinarayan Meena, Municipal Corporation Durg Commissioner Haresh Mandavi along with local public representatives and departmental officers-employees were present.