Uncategorized
77.88 per cent voting reported till 5 pm, would probably cross 80 per cent.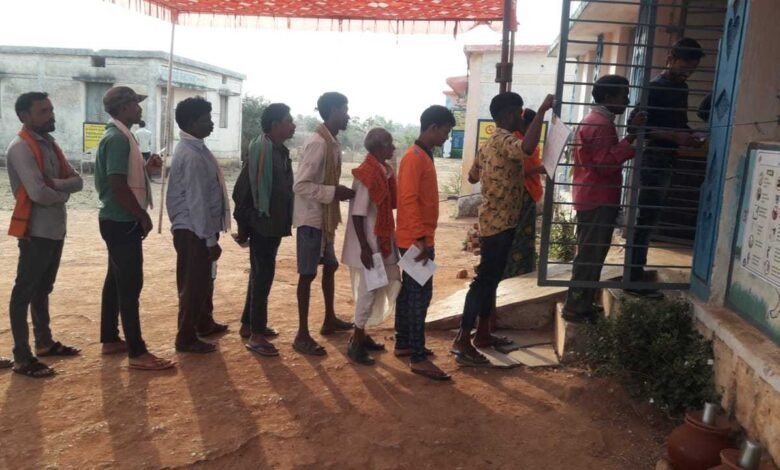 Dispatch News.
Khairagarh by-election witnessed 77.88 per cent voting till 5 pm on Tuesday, according to official sources, adding the voting percentage may cross 80 per cent in view of large number of voters were still waiting for their turn to exercise their franchise on the premises of 291 polling booths across the Assembly constituency even after 5 pm. The election went off peacefully midst tight security arrangements. 
According to information, 78.92 male voters exercised their franchise while female voter percentage remained 77.74. The accurate data of voting can be revealed only after the return of the polling parties from their respective booths. 
By 3 pm, voting percent was recorded at 65.68 including 65.04 male and 66.33 female while the voting percent at 1 pm was reported as 52.74 per cent including 52.88 male and 52.59 female. 
According to official sources, "Around 71 per cent voting was reported till 5 pm. It is expected that the voting percentage will reach 80% in view of number of voters waiting for their turn to exercise their franchise in the 291 polling booths of the constituency." 
Meanwhile, fate of ten candidates was sealed in the EVMs. However, a direct fight between ruling Congress and Opposition BJP is expected in this by-election. Both Congress and BJP claimed their victory in the election. JCC-J has also claimed victory in the election. Congress had fielded Yoshoda Verma while two times MLA Komal Janghel fought on BJP ticket. Similarly, Narendra Soni, brother-in-law of Late Devvrat Singh, fought the by-poll on JCC-J ticket. 
As far as security arrangements are concerned, 22 CAF Company, three CASF, one STF Company, 850 district police, 200 Home Guard, 167 Forest Guards and 301 kotwars were deployed. 
2,11516 voters, including 1,06266 male and 1,05,250 female, were enrolled in the constituency. The total voters also includes 3752 voters between age group of 18 and 19, 1011 Divyang, 1612 voters above 80 years and 89 service voters.