Chhattisgarh
Chief Minister extends greetings of 'Chhattisgarhi Rajbhasha Diwas', celebrations organized at CM's residence office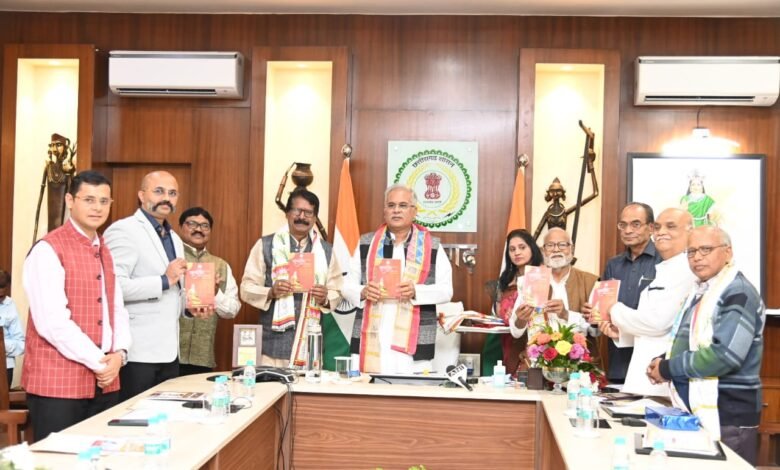 Raipur: A programme was organized by the Department of Culture and Archeology at the chief minister's residence office here today to celebrate 'Chhattisgarhi Rajbhasha Diwas' (Chhattisgarhi Official Language Day). On the occasion, chief minister Bhupesh Baghel honored 13 litterateurs of Chhattisgarh for their remarkable contribution towards Chhattisgarhi language besides releasing the works of 10 litterateurs.
Adressing the gathering on the occassion, chief minister extended his greetings to the people of state on 'Chhattisgarhi Rajbhasha Diwas'. "Chhattisgarhi is our mother language and our pride. The state government is making consistent efforts to revitalize and promote the spread of our language. State's song 'Arpa Pairi Ke Dhar' has been released in Chhattisgarhi. Besides, the language is also being taught in government schools", he said.
He added that it is the responsibility of every cizitizen of the state to work for the promotion of Chhattisgarhi. The state government is working to give recognition to Chhattisgarhi in the country and the world by promoting local festivals and sports.
On the occasion, Chief Minister felicitated Jageshwar Prasad, Durga Prasad Parkar, Rameshwar Sharma, and Ramnath Sahu of Raipur district, Dr JR Soni of Durg district, PC Lal Yadav of Sakti district, Sorin Chandrasen of Mahasamund district, Paramanand Verma of Khairagarh district, Budram Yadav of Bilaspur district, Ranjit Sarathi of Surguja district, Dr. Shail Chandra and Duman Lal Dhuv of Dhamari district and Rudra Narayan Panigrahi of Jagdalpur for their special contribution towards Chhattisgarhi language.